Oticon Real 1 miniRITE R - Rechargeable
Try for 30 days. Not satisfied? 100% money back guarantee.
If you return the hearing aids 30 days after receiving them you'll get a full refund.
The first fit based on your audiogram and unlimited online fine tuning appointments are included in the price.
Until five years after the purchase all warranty covered repairs are free of charge. We'll take care of the shipping and make sure you get them back fully functioning.
Description
The Oticon Real 1 is the premium model of the product family. This is a rechargeable device that is worn with a speaker-in-the-ear and features the most advanced Oticon technology. The Oticon Real is the successor to the successful Oticon More. The Oticon More was our most popular hearing aid today and we expect the Oticon Real to surpass it. With the introduction of the Oticon Real, Oticon brings three novelties to the market; new technology, a new app and an exclusive colour;
The new technology in this hearing aid builds on the technology of the Oticon More. It is an improvement on that technology. Oticon has developed a stronger chip with more processing power, called Polaris R. Partly because of the greater processing power, Oticon has been able, to add two new technologies to the existing Deep Neural Network; under the name RealSound Technology, two new features called: SuddenSound Stabiliser and Wind & Handling Stabiliser. The SuddenSound technology recognises more than 500,000 sudden sounds per day. These sounds are not removed, but rather recognised and balanced so that they remain pleasant to hear. After all, as a hearing aid wearer, you often want to hear everything again. This technology reduces listening effort by 22% compared to the Oticon More. The Wind & Handling Stabiliser is an advanced (wind) noise stabiliser. It stabilises not only in the low tones (Oticon More), but also in the mid and high tones. This technology actually turns off the microphone automatically, upon detection of (wind) noise. The chip intelligently (automatically) controls which microphone and tones to turn off. This technique has been tested in one of the world's largest wind tunnels and the results show that during a very strong wind, the device suppresses noise so well that a conversation can still be followed as normal. Even the irritating sounds when putting the hearing aid on - especially for spectacle wearers - these noise sounds are suppressed to such an extent that they are almost inaudible. So it really contributes to very high wearing comfort.
This hearing aid is compatible with many all Apple and Android devices, for instant streaming and hands-free phone calls (Apple only). Always check the compatibility guide first to see if your device is suitable for streaming. There is also a new app that will replace the Oticon ON App and RemoteCare App; Oticon Companion. It has the same features but in one app. Don't forget to download it from the App Store!
Show more
Show less
Pros and cons
Exclusive colour: Olive Green
Detects and balances more than 500,000 sudden noises per day
Almost completely prevents all disruptive (wind) noise
Compare here the different variations of Oticon Real 1 miniRITE R - Rechargeable
Oticon Real 1 miniRITE R - Rechargeable

£1,595.00

Battery type
Lithium-ion
Volume control
Programme switch
Telecoil
Comparison of the different hearing aid technology levels
Oticon Real 1 miniRITE R - Rechargeable

£1,595.00

Oticon Real 2 miniRITE R - Rechargeable

£1,495.00

Oticon Real 3 miniRITE R - Rechargeable

£1,395.00

General
Reviews
Release year
2023
2023
2023
Rechargeable
Battery type
Lithium-ion
Lithium-ion
Lithium-ion
Battery lifetime
24 hours
24 hours
24 hours
Volume control
Programme switch
Telecoil
Channels
64
48
48
Bands
24
20
18
Frequency range
10 kHz
8 kHz
8 kHz
Listening programs
4
4
4
Height
27 mm
27 mm
27 mm
Moistureproof/ dustproof
Android compatible
iOS-compatible
Audiological
Directionality
Binaural directionality
Spatial orientation
360-degree speech understanding
Noise reduction
Noise reduction
Speech recognition
Soft speech amplification
Environmental Adaptation
Wind noise reduction
Music mode
Ear-to-ear communication
Own voice recognition
Noise/ tinnitus support
Compatible with CROS
Extra functions
Remote fittable
Self-check
Localisation
Health functions
Apps
These apps are available for this hearing aid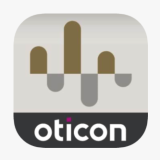 Oticon Companion
Met de Oticon Companion app kunt u het volume van uw hoortoestellen onafhankelijk regelen en schakel

en tussen luisterprogramma's. U kunt ook eenvoudig het batterijniveau controleren, uw hoortoestellen zoeken als u deze kwijtraakt, ondersteuning op afstand krijgen van uw hoorzorgprofessional wanneer u dat nodig heeft, en nog veel meer.

...

read more

Show less.
Linkable accessories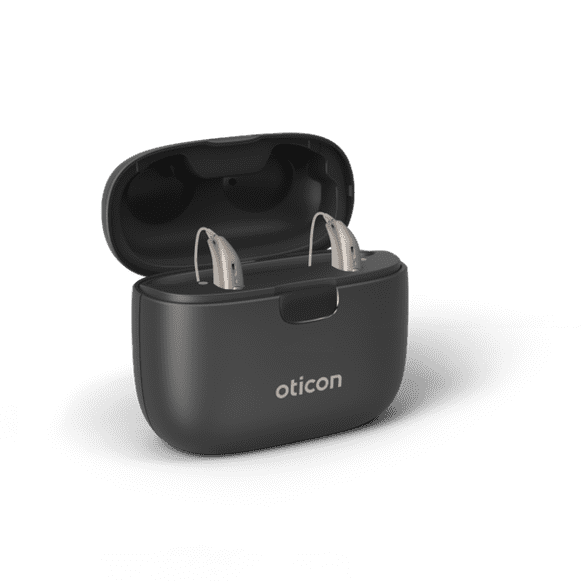 Chargers
Oticon / SmartCharger miniRITE R