Try for 30 days. Not satisfied? 100% money back guarantee.
If you return the hearing aids 30 days after receiving them you'll get a full refund.
The first fit based on your audiogram and unlimited online fine tuning appointments are included in the price.
Until five years after the purchase all warranty covered repairs are free of charge. We'll take care of the shipping and make sure you get them back fully functioning.
Description
De techniek van deze hoortoestellen focust zich op het horen in rumoer en het beter verstaanbaar maken van de dagelijkse geluiden van de wereld. Volgens Resound zorgt deze nieuwe techniek voor een verbeterde spraakverstaanbaarheid van 150% ten opzichte van oudere ReSound hoortoestellen. Het is voor ons niet bekend welke hoortoestellen dit zijn geweest.
Naast een verbetering in de spraakverstaanbaarheid zijn er nog een aantal andere voordelen voor de drager, zoals een spraakverstaanbaarheid van 360 graden, een snellere schakeling tussen verschillende programma's in de automatische omgevingsadaptie en een betere focus op het voeren van gesprekken in elke situatie.
Ook biedt ReSound "Own Voice Perception" aan. Dit betekent dat het geluid van de eigen stem van de drager niet meer anders of als vervelend kan worden gehoord. Het eigen stemgeluid blijft door deze functie natuurlijk, wat leidt tot een verbeterde ondersteuning van het hoortoestel en de algemene tevredenheid.
De hoortoestellen beschikken over Bluetooth en kunnen verbonden worden met Apple- en Android-apparaten. Het is mogelijk om alle audio vanaf digitale apparaten te streamen naar de hoortoestellen. Dit maakt de ReSound OMNIA eigenlijk jouw draadloze headset.
Daarnaast heeft ReSound een aantal maanden terug ook een extra update geïntroduceerd, namelijk handsfree telefoneren via de hoortoestellen. Het opnemen en ophangen van gesprekken gaat eenvoudig. De audio gaat volledig via de hoortoestellen en niet meer via de telefoon. Hierdoor hoeft de microfoon van de telefoon ook niet meer dichtbij te worden gehouden*.
*Beschikbaar vanaf de iPhone 11 of later, iPad Pro (5de generatie), iPad Pro (3degeneratie), iPad Air (4degeneratie) en iPad mini (6de generatie) of later, met iOS update 15.3 en iPadOS 15.3 of later.
Show more
Show less
Pros and cons
Verbeterd eigen stem geluid
Streamen met Apple en Android
Ringleiding en multifunctionele knop
Beschikt niet over de nieuwste directionaliteit-techniek
Compare here the different variations of ReSound OMNIA 762 - DRW
ReSound OMNIA 762 - DRW

£0.00

Battery type
ZL13
Volume control
Programme switch
Telecoil
Comparison of the different hearing aid technology levels
ReSound OMNIA 762 - DRW

£0.00

General
Reviews
Release year
2022
Rechargeable
Battery type
ZL13
Battery lifetime
140 hours
Volume control
Programme switch
Telecoil
Channels
14
Bands
14
Frequency range
10 kHz
Listening programs
4
Moistureproof/ dustproof
Android compatible
iOS-compatible
Audiological
Directionality
Binaural directionality
Spatial orientation
360-degree speech understanding
Noise reduction
Noise reduction
Speech recognition
Soft speech amplification
Environmental Adaptation
Wind noise reduction
Music mode
Ear-to-ear communication
Own voice recognition
Noise/ tinnitus support
Compatible with CROS
Extra functions
Remote fittable
Health functions
Apps
These apps are available for this hearing aid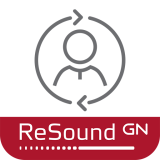 ReSound Smart 3D App
With just one tap, you'll find everything you need for quick customisation. Never miss another oppor

tunity to connect with your surroundings. Activate your favourite programmes, change the volume or call up Sound Enhancer on the go, all directly from the main screen of your app.

...

read more

Show less.